Acrylic Resin Flow Meter MODEL RK200 SERIES

This is a compact lightweight acrylic flow meter.

Models with or without a valve are available.

The integrated transparent acrylic panel structure permits easy reading of the flow.

This model is ideal for air sampling equipment, medical equipment, and analyzers.
---


Low-cost Flowmeter MODEL RK1700 SERIES
---


Flowmeter with Precision Needle Valve MODEL RK1250 SERIES
The Model RK1250 Series Flowmeter is a completely re-newed model of existing KOFLOC RK1200, designed as a flowmeter that can be integrated into the customer's equip-ment. A combination of a grade high precision float type flowmeter with a needle valve capable of very accurate flow control provides a flowmeter ideal for measurement and control of trace flows.
model P single flow tube rotameter for low flow rate measurement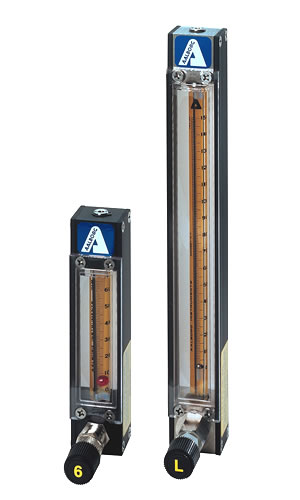 Design Features
rib-guided or fluted metering tubes facilitate stable and accurate readings

magnifier lens in front shield to enhance reading resolution

interchangeability of flowtubes and floats

ease of installation and exchange of flow tubes

"non-rotating" adapter feature - glass flow tubes are prevented from turning during the tightening phase of the assembly procedure

OPTIGRAD™ scales minimize parallax and eye fatigue

chemical compatibility

simple means of panel mounting

---

model Px multiple flow tube rotameter for low flow rate measurement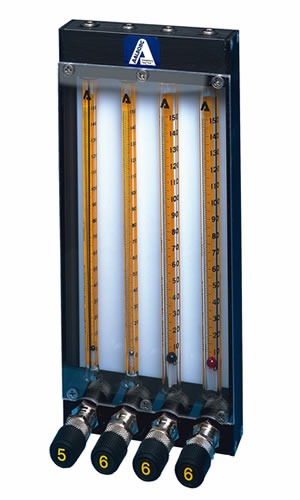 Design Features
rib-guided or fluted metering tubes facilitate stable and accurate readings

interchangeability of flowtubes and floats

manifolding at inlet or outlet (optional)

ease of installation and exchange of flow tubes

"non-rotating" adapter feature - glass flow tubes are prevented from turning during the tightening phase of the assembly procedure

OPTIGRAD™ scales minimize parallax and eye fatigue

chemical compatibility

simple means of panel mounting